News And Events
Why Himachal apple growers take out a march from Hatkhoti to Rohru
SHIMLA- Apple growers today decided to take out a march from Hatkoti to Rohru and lodge their protest.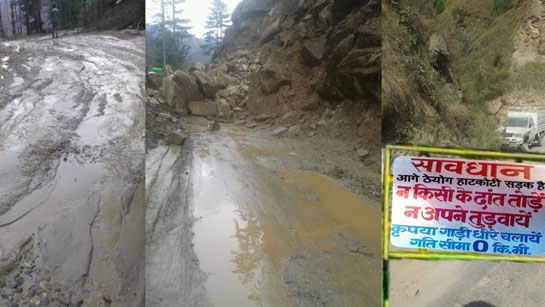 They said the condition of the 90-km Rohru-Hatkoti-Theog road had worsened as the CC construction company and the state Public Works Department (PWD) had shown no signs of progress even after a year.Led by Himalayan Apple Growers' Society (HAGS), farmers would march from Hatkoti to Rohru and lodge their protest on April 17.
The decision was taken at a meeting chaired by HAGS chairman Rajeev Chauhan in Hatkoti. The society would also urge other traders, organisations, transport unions and public at large to join the protest, Chauhan said.
All members present at the meeting expressed their anger and anguish at the deplorable condition of the Theog-Hatkoti-Rohroo road. "It seems rather impossible to complete this road by June 2016, as being targeted by the contractor. Click to view more image
Farmers, traders take out torchlight march "Mashal Jalao Sarkar Jagao"
HAGS had organized a protest on 25th May to highlight the sorry state of our road from Theog- Kotkhai-Hatkoti-Rohroo (TKHR) road.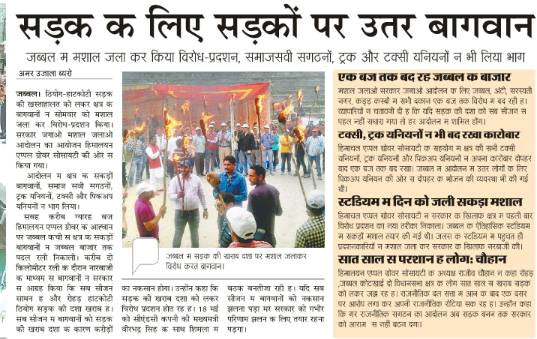 Apple growers, traders and transporters today took out a torchlight procession in Jubbal today. They expressed resentment over the slack approach of the state government towards repairing the 80-km Rohru-Hatkoti-Kotkhai-Theog road.

The protesters said the road had been not repaired for over nine years and that the commute on the stretch was risky.
The farmers from Rohru, Jubbal, Saraswati Nagar, Aanti, Kathasu and other areas gathered at the Jubbal ground and held a silent protest to wake up the government and construction company from their slumber.
"The condition of the Rohru-Karapathar-Kotkhai stretch is pitiable and claims of the government and contractor concerned are hollow," said Rajiv Chauhan, chairman, Himalayan Apple Growers Society (HAGS), who led the "Mashal Jalao, Sarkar Jagao" protest. Click to view more image